One of the Worlds most expensive and prestigious Motorcycles
The Unique Icon Sheene Motorcycle (www.iconsheene.com) had to be moved to many Public and Private exhibitions both in the UK and around the World.
​The motorcycle had to arrive in a perfect condition every time through a variety of shipment methods such as road transport, air and sea freight , it also brought the need of an innovative protective packaging which not only had to be reusable time after time but it also had to provide an ease of use allowing dismantling and assembly to be completed by only 2 people using minimum tooling.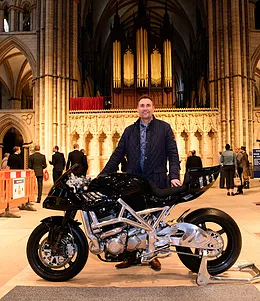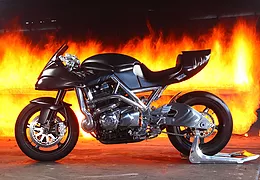 The concept and finished project I E P designed came through our R&D division who created an unique display stand as part of the shipping base. The base itself is pre-wired, flush fitting low voltage LED`s already built in to the chequered aluminium plate covering. I also has removable aluminium side plinth covers that are contained within the case enabling the motorcycle to be `Exhibition ready` on a lit & finished display stand.
​The unique pins and lock system IEP developed for this project enabled the outer wooden case to be removed panel by panel and rebuilt with ease. To this day, the Icon Sheene Motorcycle is still being transported without any difficulties , delays or damages using the very in the same reusable display packaging designed by International Export Packers. Some of the high profile locations the packaging was shown include: Dubai International Motor Show, Private Boardroom of Sunseeker Yachts London HQ, the Goodwood Festival of Speed (Personal presentation to Lord March), Bentley Motors Cars Showrooms, Donington Park Motorcycle Museum,Vicenza International Engineering display, BBC Children in Need Car-Fest etc .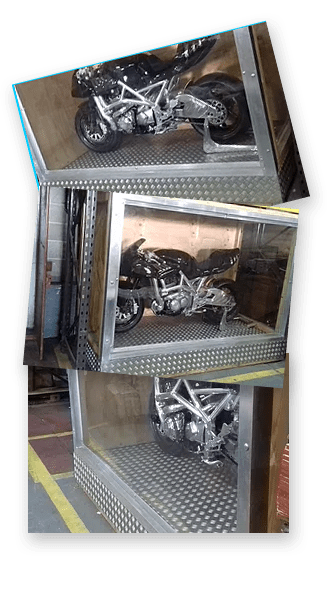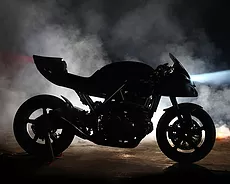 The entire project and Worldwide deliveries have been successfully executed  by International Export Packers and Tradefreight International Ltd .The concept of a unique storage, display and transportation unit as an adaptable case has wide range capabilities, even transporting items of exceeding 10,000 kilos in weight.
Based on our extensive R&D experience we are confident that whatever the logistical challenge and pre-existing difficulties, we are able to design and provide a first class effective solution for our clients.
Looking To Ship A Motorbike?